MEETING BETSEY JOHNSON
Posted on Wednesday, April 17, 2019 By Vintage Chic Diva Admin Leave a comment
MEETING BETESY JOHNSON
Hi Diva's,
Today I wanted to talk to you about meeting a woman I've loved and admired for many years now, Betsy Johnson. I've been such a big fan of her's for what seems like forever now and have a large collection of her handbags, and other items as well. I started collecting her handbags several years ago because I love the unique designs which are girly but at the same time a little punk, and a little rock and roll. I've shared a few with you here on the blog, and have lots more I will be sharing later. I love the fact that her designs are so feminine yet whimsical and just plain fun.
She is a fashion icon who's passion and excitement for life and what she does is undeniable. I never thought there would ever come a time when I would be able to meet her, but when her Trolls collector with Macys was out a few years ago, I was looking on the Macy's website and saw that she was making appearances. My first thought was she will probably be at a Macy's location way to far for me to be able to go and meet her. But to my surprise, as I scrolled the website, I saw that she would actually be coming to one not too far from where I live. I was so excited as I told my husband that we have to go and see her. He knows how much I love her and I think he was a little excited too.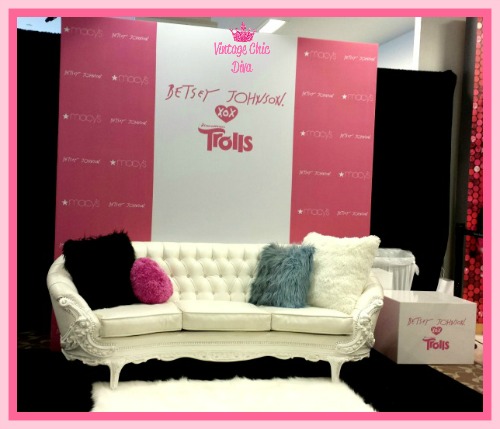 I'm the kind of person who like to verify and figure out a game plan so I started calling the store right away for all of the details. At first when I called they sounded a little confused about me asking about her being there, like they didn't know about it. So of course I asked for a manager because I needed every single detail about the day because there was no way I was going to miss this. I wanted times, and every detail that would be involved in this event.
My biggest fear though is the fact that due to my many health issues and severe back issues, I was worried about the fact that there would be a line and there was no way that I could stand in any line for hours. I wanted to of course get there early but figuring out how I would work out the line thing was going to be an issue for me. So I spoke to a manager and told them and asked if there was a way that I could get a chair to sit it and although the said yes, I was still worried about it. So I had to break down and go in my pink wheelchair so that I could be sure there would be no issues. I know it sounds silly but I guess I felt a little bit of fear having to use the wheelchair. But I knew I had to get over it to meet her, so that's what I did.
I had no idea how many people would be at the event, so I told my husband we needed to get there extra early so that we could be in the line pretty quick. Although it was super early, my idea brought some amazing, fun, surprises. We were able to get all of the details about the line and where she would be, and also got to meet the host Micah Jesse before Betsey arrived. He was so sweet to me and since I was in my wheelchair he spoke to the ladies from Macy's working the event and they made sure that I would be the first person to meet Betsey.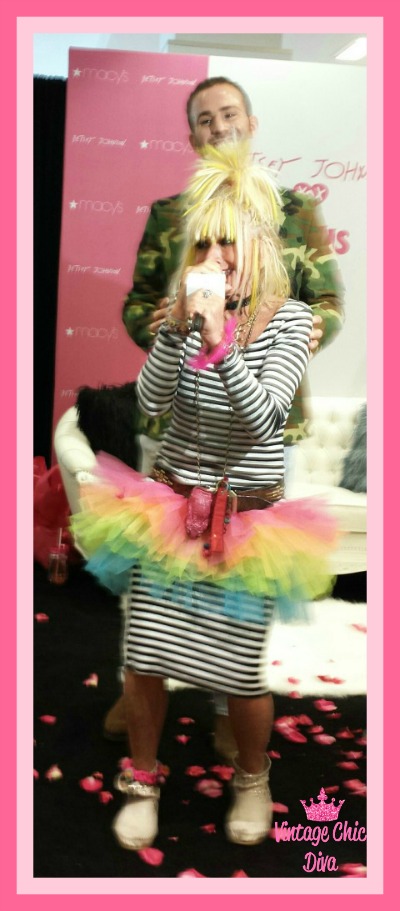 I was so excited when they told me and he told me that Betsey would be happy that I choose to take the adorable pink rhinestone phone purse.I have a big collection of her handbags but on that day I thought the new pink one would be a great one to take. I also took my glitter notebook with the hopes of getting her to sign it for me. I actually had purchased several of the new Troll's collection products because they were all super cute. I have the pink glitter notebook, the cupcake notepad, the Troll's slippers, the glitter cupcake purse, the cupcake change purse, and the cupcake trinket dish as well.
I was so excited when they started playing the song from the movie, Can't Stop This Feeling and I looked around to see where Betsey would be coming from, and saw she was coming down the escalator. She made such an awesome entrance, throwing rose petals as she came down and in true Betsey fashion, she did her signature cart wheel and splits when she got to the bottom of the escalator. I had always heard she did this but was it was such a fun site to see, especially since she is in her 70's now.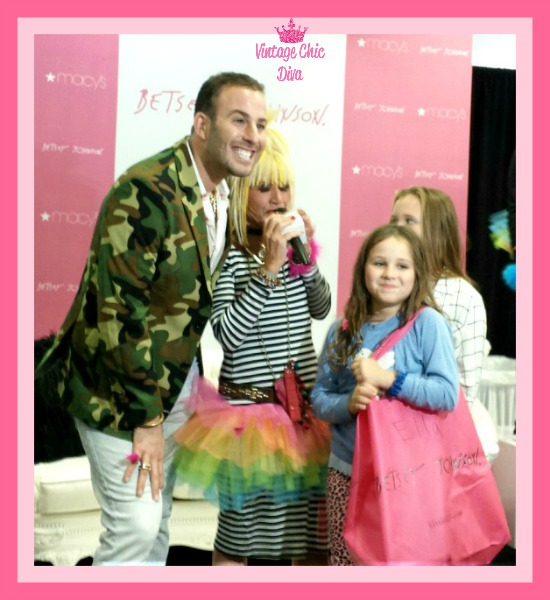 I was so excited and nervous at the same time and I had no idea what I would say to her. The set up as you can see from the photos was super cute as well with the beautiful couch and rose petals all over the floor. I was ready and prepared to sit on it with her, but she insisted that I stay put in my wheelchair which was so sweet of her.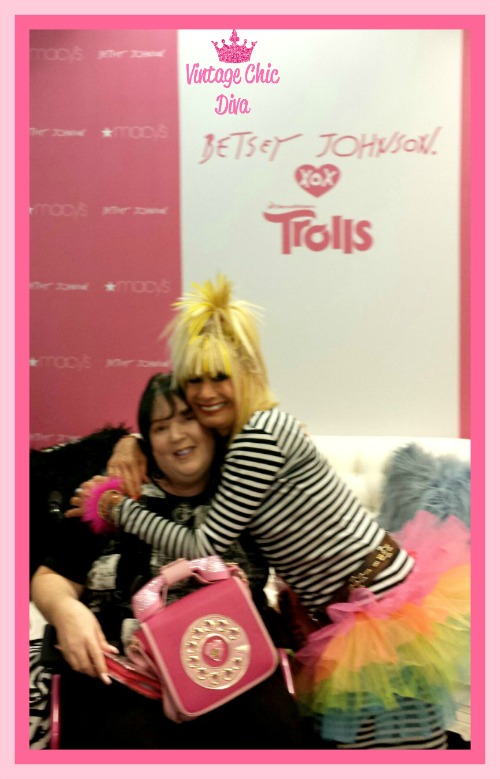 She was so kind to me and hugged me and talked to me for a few minutes and I was so nervous and so excited to finally be meeting her in person. She did love the new pink rhinestone phone purse I brought and told me she was happy to see I brought that one. It was also a few weeks before my birthday so I asked her if she would be kind enough to sign my pink glitter notebook I brought. She whispered and told me she is not supposed to but she did it anyway since it didn't take long. It was so amazing to finally meet her in person and the love, joy, and kindness I felt from her was such a wonderful blessing to me.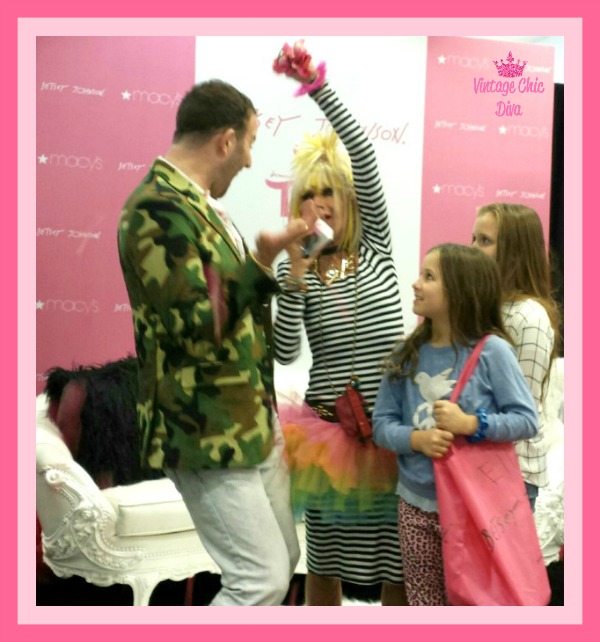 They had a photographer there also to take photos and I had my husband snapping lots of photos as well which you can see here. She also had her adorable grand daughters with her as well which can be seen in some of the photos. And the host Micah was so much fun, and it was because of him that I was able to be the first person to meet her. I'm so grateful for him because he knew I was the first person to arrive at the event, but he also wanted to make sure that I had my time with her and that I was also comfortable in my pink wheelchair even though I felt a little weird using it.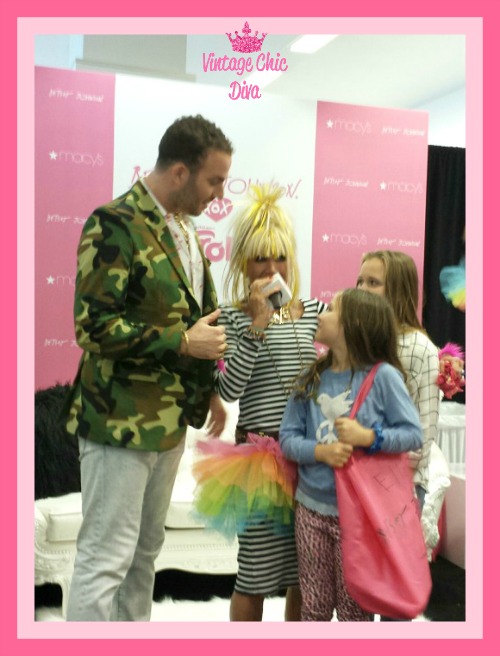 It's not everyday that you get to meet someone who you have admired and loved for years, and meeting Betsey Johnson was a dream come true for me. My next dream is to be able to interview her for my website and I'm hoping and praying that I can make that dream come true as well.
I hope you enjoyed this blog post and the photos and I hope you remember that
DREAMS REALLY DO COME TRUE
Till Next Time,
Keep Reaching For Your Dreams!