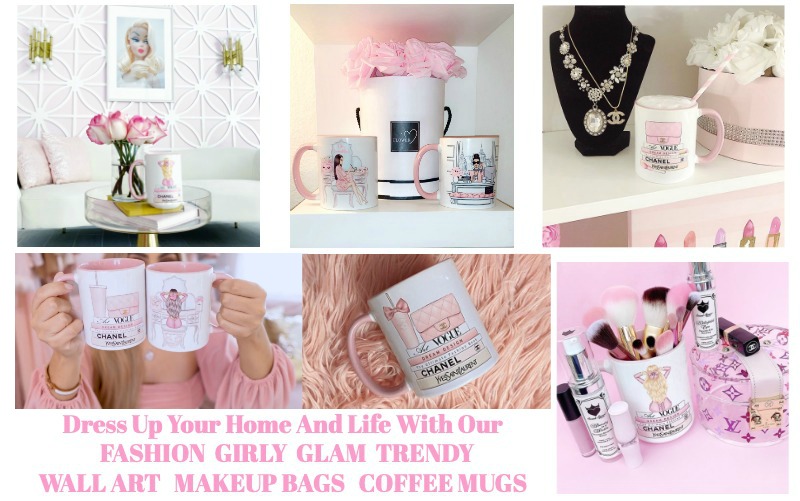 Vintage Chic Diva designs Fashion, Girly Wall Art, Glam Makeup Bags, Fashion Coffee Mugs, Thermal Tumblers, Coasters, and Pillow Cases to help you add style, beauty, and elegance to every room of your home and life. We strive to create our designs and products with lots of styles and choices on each one so there is something for everyone.
We are very passionate about empowering, inspiring, and motivating women and girls. You can check our our Divine Diva Interviews where we feature inspiring interviews with amazing successful women. Click the link below to check them out.
Also it says our wall prints are sold in the United States only but if you are in another country and would like wall prints we have another way for you to order and receive them. Please email us and we can let you know how to do so.
We have a WISH LIST in the links to the left which you can use to add all your products while you are shopping. It's private and very useful in keeping your selections for you while you are deciding on which goodies you are going to purchase.
If you see a design you like and you would like to know if you can get it on a different product, please feel free to ask. We do offer some custom items as well.
If you want your name on a coffee mug design or wall print design you see, please email us for pricing as these are custom items. vintagechicdiva@gmail.com
We also just recently became an influencer on Amazon and love sharing our picks of Handbags, Beauty Products, Home Decor and more. You can shop our lists at http://www.amazon.com/shop/vintagechicdiva You can also do all of your Amazon shopping through our link. We are part of their associates program and make a small commission but only share products with you we truly love and or have tried.
We also have a blog which features diy tips, decorating tips, and other girly things like handbags and makeup. Click the links below to check it out.
We are always working on adding new designs to the site throughout the month. So keep checking back for new designs. Happy Shopping Diva's! I hope our designs find their way into your hearts and homes.
Have A Divalicious Day!
For sneak peaks of new designs, coupons, and other fun things please follow us on Instagram at www.instagram.com/vintagechicdiva
FEATURED PRODUCTS
Please enjoy this amazing video our customer Lexie created reviewing our coffee mugs. You can follow her on Instagram @lexiedean3seventeen

Copyright © 2018 - 2021 Vintage Chic Diva. All rights reserved.