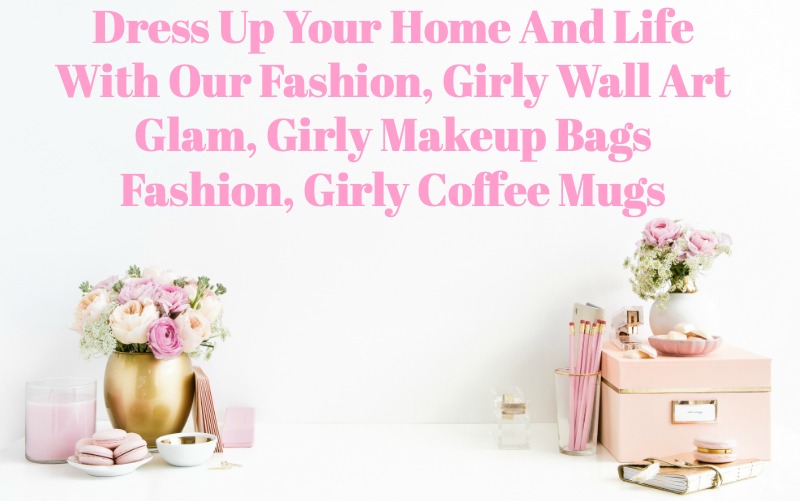 Vintage Chic Diva designs Fashion, Girly Wall Art, Glam Makeup Bags, Fashion Coffee Mugs to help you add style, beauty, and elegance to every room of your home and life. We believe your home should be a place where you can surround yourself with the things you love. You can easily change the look of any room in your home by adding just a few key products in different areas. You can view all of our products by clicking on the categories on the left side.
We offer many designs and styles including Feminine, Fashion, Beauty, Quotes, Modern, Glam, Girly, Chic, French, Paris, Pink, Gold, Makeup, Glitter, Chanel inspired, Audrey Hepburn inspired, Marilyn Monroe inspired, Kate Spade inspired, Glitter, Floral, Unicorns, Mermaids, Scripture, Inspirational Quotes, Handbags, High Heels, Champagne, Whimsical, Confetti, Perfume, Children's, Watercolor, and so much more. We strive to create our designs and products and offer many choices on each one so there is something for everyone.
Our digital art prints give you the ability to decorate any room in your home within minutes. We wanted to make it easy for our customers and with our digital art prints, no going out of the home, no lines to wait it, and no need to wait for a shipment to arrive. Although our wall prints are 8 by 10 in size, you can also print them smaller and get creative with your planners. So for all the planner lovers out there, our designs make great additions to you for all of your planner needs. You can see some photos of those on our customer photos page.
After you place an order within a few minutes you receive an email with the download links for your prints. You download your prints and save to your computer. You can print from your own printer at home or have it printed at your local office store like Staples or whatever is your local printer. You can even log on to their site and attach your photos, pick your paper, and go pick them up. Super easy and super inexpensive as well. You can print on matte white card stock or photo paper whichever you prefer. Trim and you are ready to frame.
Also it says our wall prints are sold in the United States only but if you are in another country and would like wall prints we have another way for you to order and receive them. Please email us and we can let you know how to do so.
We also just added our new Glam Makeup Bags to the website. Our makeup bags are the perfect way to add a little glam to your life and carry your makeup or planner goodies in a beautiful bag. Check back often as we are always adding new designs.
We just added our new Fashion Coffee Mugs and super excited to be able to offer 2 sizes as well as a mug with a pink handle and pink inside.
If you see a design you like and you would like to know if you can get it on a different product, please feel free to ask. We do custom items as well.
We also are very passionate about empowering, inspiring, and motivating women and girls. You can check our our Divine Diva Interviews where we feature inspiring interviews with amazing successful women. Click the link below to check them out.
We also just recently became an influencer on Amazon and love sharing our picks of Handbags, Beauty Products, Home Decor and more. You can shop our lists at http://www.amazon.com/shop/vintagechicdiva You can also do all of your Amazon shopping through our link. We are part of their associates program and make a small commission but only share products with you we truly love and or have tried.
We also have a blog which features diy tips, decorating tips, and other girly things like handbags and makeup. Click the links below to check it out.
We are always working on adding new designs to the site throughout the month. So keep checking back for new designs. Happy Shopping Diva's! I hope our designs find their way into your hearts and homes.
Have A Divalicious Day!
For sneak peaks of new designs, coupons, and other fun things please follow us on Instagram at www.instagram.com/vintagechicdiva
FEATURED PRODUCTS

Copyright © 2018 - 2020 Vintage Chic Diva. All rights reserved.