Vintage Chic Diva was born due to a need of finding fabulous fashion wall art without breaking the budget. I love fashion art and inspirational at when I was searching for the kind of art I loved, it was all so expensive and a big investment to make for just a few pieces. I also wanted to be able to have smaller pieces to mix and match, and wanted to be able to change them out whenever my mood changed and not spend allot of money to do so. I also wanted to be able to find a print and not have to wait for it to be delivered to me. I wanted to find a way to bring these things together, and so Vintage Chic Diva was born.
Vintage Chic Diva offers fashion, girly, inspirational wall art digital prints. With digital prints you can order from our site and within a few minutes your print is delivered via email. Once you receive your print, save to your computer, then you can print at home or what's also super easy to do is to email your local office store like Staples or whatever you prefer, have them print on white card stock, or photo paper depending on what you like, you trim to size, put in your favorite frame, and you are ready to go. It's also super cheap as well. With our digital prints you can mix and match to your hearts desire. It's an inexpensive way to decorate your home or office with many designs to choose from.
I also love fashion coffee mugs and always hunting for unique and girly coffee mugs and once again in searching I was not finding what I really wanted, so I decided to start designing my own. We love being able to bring these products together to be able to offer you Fashion, Fun, Girly, Glam products. Stay tuned as we love bringing new products that go well with our brand.
We also just starting adding our new Glam Makeup Bags. Our Makeup Bags come in Pink and White and are a great size. They can hold your makeup products, or even your planner goodies. They also make great Bridesmaid Gift as well.
I hope you love our designs and being able to incorporate my love of writing, inspiring and design together is a dream come true. I love seeing how you use our prints, makeup bags, and coffee mugs and would love to feature them here at my website and on my social media channels. If you would like to be featured, please send a photo of our wall art, makeup bags, or coffee mugs in your home or office to vintagechicdiva@gmail.com
A Vintage Chic Diva girl sips champagne any day of the week she chooses. She enjoys eating macarons or cupcakes for breakfast. She's not afraid to wear cute pajamas or sweats and can twirl around in a party dress while throwing glitter in the air.
She dreams of Paris, loves peonies and every Audrey Hepburn movie. She loves pink and confetti, glitter and all things Paris. She collects Fabulous Betsey Johnson handbags, pink girly handbags.
She loves makeup and nail polish the more pink and glitter the better. She considers chocolate a part of the food groups and has been known to order dessert before her meal.
She believes that every woman has the power to become who and what she wants to be. She loves inspiring women and girls, and wants every woman to to remember that you are ENOUGH!
Thanks so much for stopping by our site,
Donna, John, and our fur babies Lucky and Sophia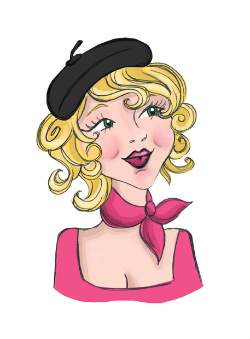 Copyright © 2018 - 2023 Vintage Chic Diva. All rights reserved.