VINTAGE CHIC DIVA FAB GIRLY AMAZON TRINKET TRAY FINDS
Posted on Monday, July 22, 2019 By Vintage Chic Diva Admin Leave a comment
VINTAGE CHIC DIVA FAB GIRLY AMAZON TRINKET TRAY FINDS
Hi Diva's,
Today I wanted to share with you some of my favorite Fab Girly Amazon Trinket Tray Finds. I just love to collect these little beauties. They are so pretty to use as decor and for holding your items. I love the ones with messages on them and different shapes and sizes as well.
I love anything Paris theme, Unicorn theme, and bows and of course pink and gold. And the ones with inspirational messages are a great reminder each day and also so pretty. I collect these kind of like I collect handbags, keychains, and makeup, lol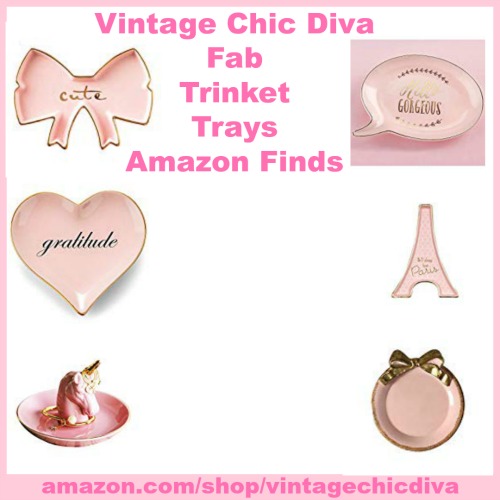 You can get these beauties by clicking the separate links below or you can just shop my page there at the link below where you always see my Fabulous Finds. You can also follow me there to keep up and it's handy for you to find my page by following there.
Here is my page there as well where you can shop all of my Fab Product Finds
http://www.amazon.com/shop/vintagechicdiva
As always I always try to share with you super affordable products which of course who doesn't love a great price. I also share some designer products as well because I know you love those as well. And so many designers are now selling on Amazon now. Some things do come from China but don't worry about that. They take longer to receive but well worth the price. In fact my husband gets tons of car parts on there as well as parts for his lawnmower. So if you can be a little patient, then you can get a great bargain.
If there is anything you would like to see that is not on my page there, comment below and I can look for those for you.I want to make sure you are happy with what I share on my page there.
Oh and I do make a commission from my page at Amazon but I only share things with you that I truly love and many have used myself.
Till Next Time,
Happy Shopping!
Have A Divalicious Day!