PINK BLING GIRLY TELEPHONE
Posted on Sunday, July 7, 2019 By Vintage Chic Diva Admin Leave a comment
PINK BLING GIRLY TELEPHONE
Hi Diva's,
Today I wanted to share my Pink Bling Girly Telephone with you. As you know by now I love pink, bling, girly decor and when I saw this telephone I just had to have it.
I'm always on the hunt for pink, shiny things and I love anything that has glitter or sparkles with rhinestones or crystals. And I love finding things to use for decor that might also be used for other things.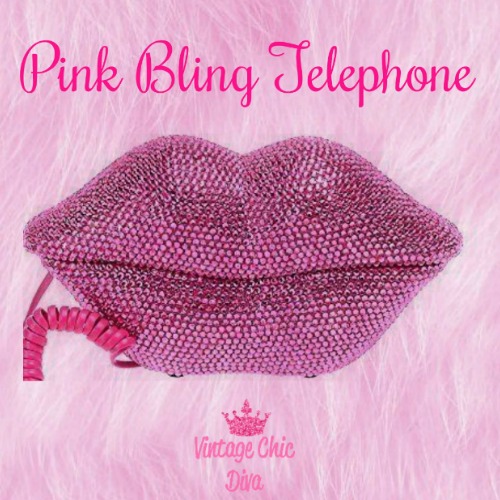 I think I was actually hunting for pink telephone decor when I found this one. And it's a bonus that it's actually a real telephone and works. Although I use it as decor and have it displayed with some of my other cute decor items.
I actually have a few pink phones that are not real phones that I plan on adding some bling and flowers too. And I also have a Betsey Johnson phone handbag that also really works which I will be writing and posting photos of that later. Of course it's pink and super fabulous!
Hunting for decor is fun and doesn't have to break the bank. In fact I got this phone for a great price and you can click the link below to get one of these beauties for yourself.
sunshop Lips phone with rhinestones Hot P
Thanks so much for stopping by the blog. I will be posting more decor, handbags, and makeup blogs with photos soon. So check back for more goodies.
Till next time,
Have A Divalicious Day!