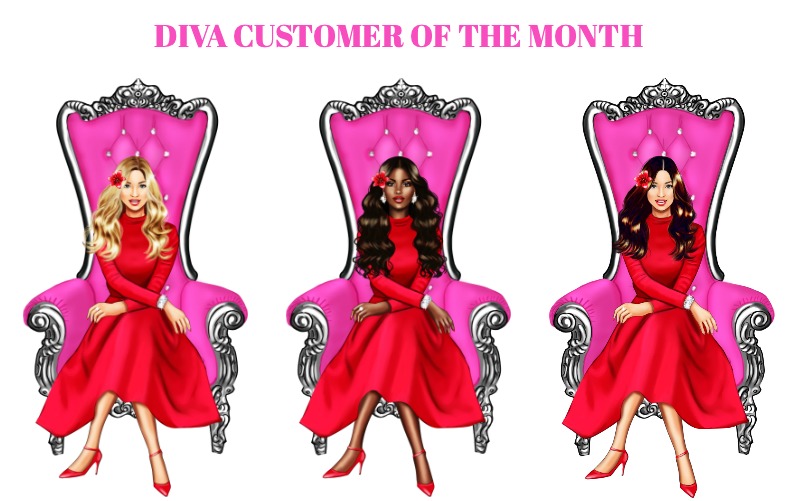 Diva Of The Month Customer Appreciation
Hi Dolls, It's that time again for our Diva Customer Of The Month. This month it's Lexie @lexiedean3seventeen from Instagram.
When I was first contacted by Lexie she had mentioned that she had over 300.00 worth of products in her cart. At first I didn't know what to think as I get messages all the time from ladies talking about what they have in their cart from the site. I never really know till that actual order comes in.
Shortly after that her order came in and sure enough she had purchased 13 coffee mugs. I was so happy that she found so many coffee mugs she loved and was excited for her to receive her order. We spoke back and forth and she was super sweet as well. She was also super excited to receive her coffee mugs.
She messaged me when she received her order and she was super happy with her order and told me she would be making a video on them as well. As soon as she made the video she messaged me and it was such an amazing video.
Seeing how happy and excited she was in the video with each and every coffee mug put a smile on my face. She has been such a pleasure to get to know and has went on to also do a video of our wall prints as well. She does lots of different videos and they are all fabulous. I've loved getting to know her over the past few months.
She has also been so kind to share the coffee mugs in photos and videos on Instagram and each time they are always pink, girly, and beautiful!
I'm so thrilled to have Lexie as the second Diva Customer Of The Month and you can find her on her Instagram @lexiedean3seventeen and you can also see her videos here as well under client pics. Don't forget to check out her other videos as well.
Thank you Lexie so much for being supportive and taking the time to make the amazing videos and photos and always sharing them. That means so much to me!
Hi Dolls,
I really love my customers and appreciate them all so much and I wanted to show my appreciation to you. So I decided each month to give a customer recognition on my website and also my social media. Also as a way to say thank you and I appreciate you, I am also giving away a free product as well.
This first one Diva is an amazing woman who found me on Instagram. She started out wanting to buy a coffee mug, but then she saw all of the wall prints and started purchasing some first for herself and a family member. I remember in the first few weeks her orders would pop up at my website and made me smile because she showed such love of my products.
She bought many prints each week and then she moved on to the coffee mugs. I remember she was so excited to receive her first mug and always telling me she was so excited looking over my site deciding which coffee mug would be next for her.
And it's not just her purchasing my products that makes me happy and grateful, but the fact that each time she gladly took amazing photos of the products and shared them on her social media and also sent each photo to me as well so that I could share.
Then she went above and beyond that by also giving me a shout out on her social media. I never know when she is going to do that, but many days I get up and first thing I see is that she either shared a fabulous photo she took of my product, or that she has just made a post or story on her Instagram telling others about me and to go check out my website.
I am beyond grateful for this as she has been so supportive and we also chat at times. She is always supportive and always willing to share with others about me and that means the world to me.
So I'm excited to share Diana as my first Diva Customer Of the Month She is @mz_glamma on Instagram
Thank you Diana from the bottom of my heart for being such a supportive woman! Engaging with other women who support one another is such a BEAUTIFUL thing!
Copyright © 2018 - 2020 Vintage Chic Diva. All rights reserved.